We have been working hard for about the last year to plan and execute some pretty huge upgrades for all of our customers.  For a couple of years now we've been using a Nimble CS500 SSD Accelerated Storage Area Network to provide highly available storage to our servers.  This has worked well enough but did not really meet our expectations.  After extensive research we decided to move over to StorPool.
We are moving all servers to a StorPool Highly Available, Distributed, Self-Healing SSD Storage Area Network and we moved the R3 server last Friday, September 8th, 2017 to the new platform.  The real-world performance gain has been night-and-day.
Here are a couple of graphs from the R3 server, which we moved last week to the new storage platform, that show major improvements in performance.  In these graphs the lower the line - the better.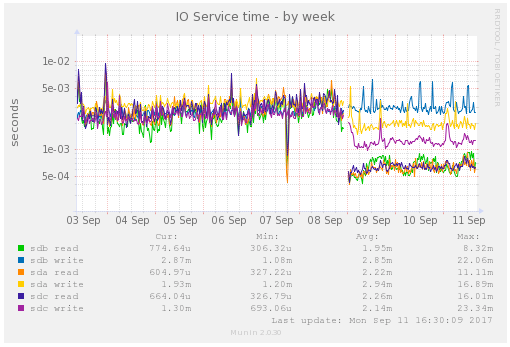 In this graph you can see that the read time is substantially lower [and lower is better] and that write time is on-par or better than our old storage platform. As a web hosting provider it is the read time that is critical and the difference is night-and-day in the real world. The reason the write times are longer than the read times are because we are additionally replicating all data written in triplicate for redundancy against failure.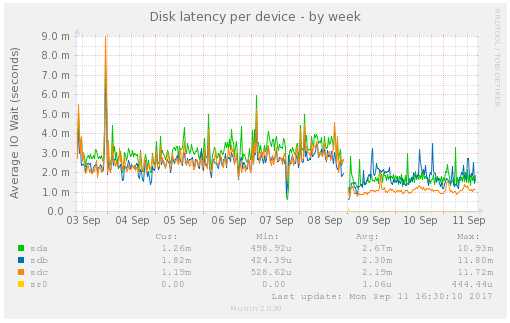 This graph shows the decrease in latency from an average of around 3.2ms down to around 1ms for MySQL and 1.5ms for user files. These are huge improvements to the underlying storage that runs your websites.
Currently the following servers are on StorPool:
V1, V2, V3, V4, R3, R4, S5, P2.
We, at this point, are working to move the following servers to StorPool:
S1, S2, S3, S4, R1, R2, P1.
It has taken us a long time to get to the point that we were able to make these changes and we're all very excited for the future.  Should you have any questions about any of this you are welcome to post them here or to reach out to our migrations team directly.